Meet the family ! The fifth member, Penryn, has just been born and will start walking in Q1, 2008. A few interesting facts can be derived by comparing the different generations. Four process node generations and two micro-architectural generations. The
relative scaling for the process nodes is given in the table below.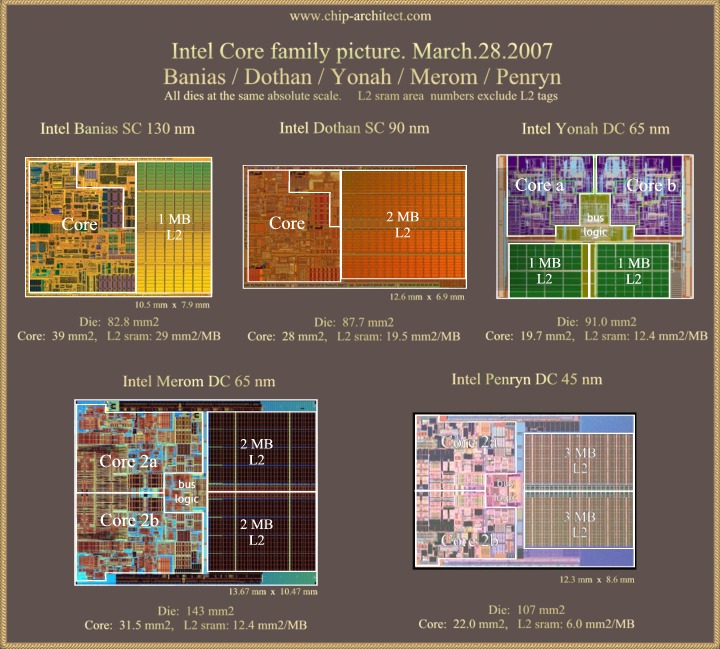 Ideal and actual scaling during process node transitions.
.

130 nm to 90 nm

transition

90 nm to 65 nm

transition

65 nm to 45 nm

transition

Ideal Area Scaling

0.48

0.52

0.48

Logic Area Scaling

0.72

0.70

0.70

SRAM Area Scaling

0.67

0.64

0.48

Die, Core and Cache Sram areas.
| | | | | |
| --- | --- | --- | --- | --- |
| . | Processor | Die Size | Core Size | L3 / L2 Cache Sram |
| 45 nm | Intel Penryn | 107 mm2 | 22.0 mm2 | 6.0 mm2 / MB |
| 65 nm | AMD Barcelona | 283 mm2 | 25.5 mm2 | 11.2 - 12.1 mm2 / MB |
| 65 nm | AMD Brisbane | 126 mm2 | 20.8 mm2 | 18.5 mm2 / MB |
| 65 nm | Intel Merom | 143 mm2 | 31.5 mm2 | 12.4 mm2 / MB |
| 65 nm | Intel Yonah | 91 mm2 | 19.6 mm2 | 12.4 mm2 / MB |
| 90 nm | AMD Windsor | 220 mm2 | 31 mm2 | 35.0 mm2 / MB |
| 90 nm | Intel Dothan | 87.7 mm2 | 28 mm2 | 19.5 mm2 / MB |
| 130 nm | AMD (Hip7) | 194 mm2 | 55 mm2 | 68.5 mm2 / MB |
| 130 nm | Intel Banias | 82.8 mm2 | 39 mm2 | 29 mm2 / MB |
updated March 28, 2007